Exploring Exotic Locations
Blog and travel stories that have been inspired from the past excursions and more recent travel adventures.
Discover the hidden gems that lie within this amazing city and beyond. You'll be glad you arrived and begin to love it as second home and as a starting point to the provinces.
Visit this active volcano with its impressive landscape. View the sunrise from the caldera edge before the climb to the rim of the smoking crater.
What secrets does the fragment of undeciphered stone hold? Displayed in the Singapore Museum, the myths of the Singapore Stone will intrigue.
Known as The Temple of Dawn, Wat Arun ha
s
been recently restored and looks magnificent.
Located across and a little way downriver from The Grand Palace.
To visit, hop off the ferry at Pier 8 and spend an hour here enjoying the intricate designs that adorn the stonework.
The Singapore Stone. A Novel.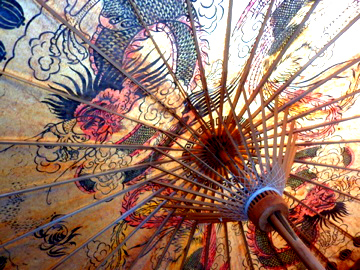 Follow Nick & Megan's Quest to unravel the mystery of strange script on the shattered fragments of the legendary rock.
The Colour of Thailand in a Journal
Come with me by way of my journal as I search through Singapore, Java and Thailand for locations where the protagonists attempt to understand the secret message on the stone. At every turn they encounter an adversary who will endanger their survival. But how does he anticipate their every move?
Climb aboard the train for an amazing experience as you step back in time while you travel through the unique countryside and villages.  
View Across Bangkok from The Baiyoke Tower
Saraburi Pools— When its time to have a break from Bangkok
An hour and half by taxi from Bangkok. Or train to Saraburi or Muak Lek —then local bus to the falls.
Beautiful Refreshing Natural Pools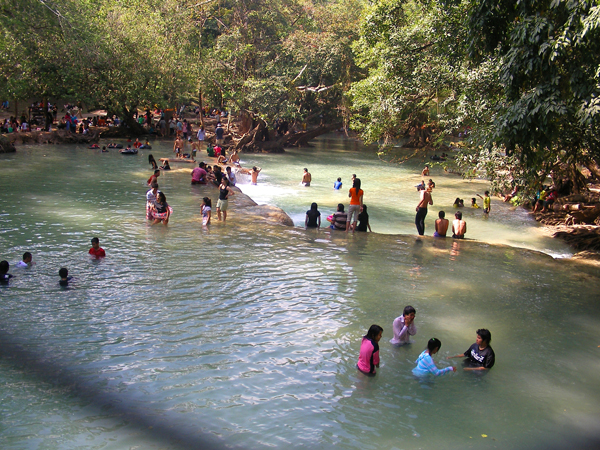 Bangkok City Train Travel Made Easy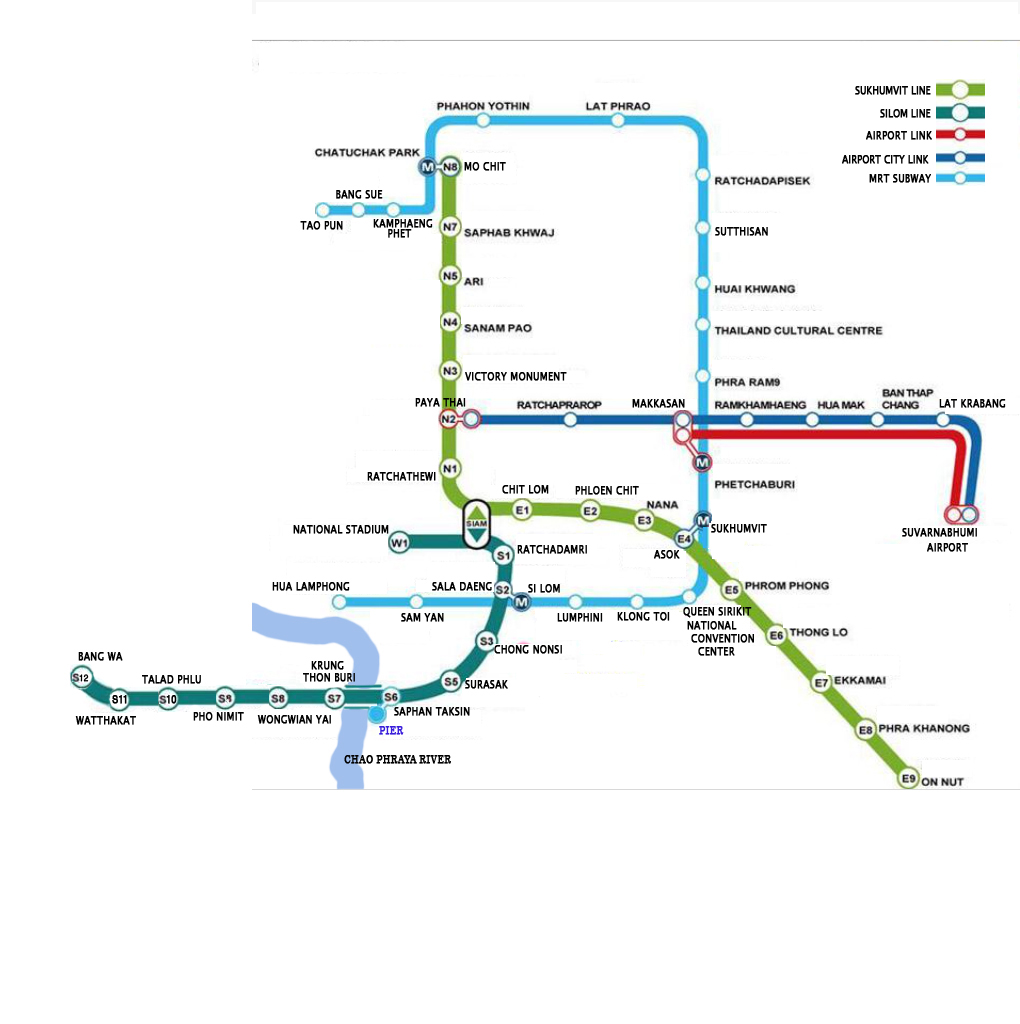 Ferry on the Chao Phraya River
Cruise the Chao Phraya River
Catch a ferry along the river and visit markets and enjoy the busy river and its sights.
Express Boat. No flag— for every stop.
Orange Flag —for major stops.
You can get your ticket on the boat.
About 15 baht.
The boats don't waste time at the landings so move quickly when getting on or off. 
The 15 baht ticket covers as far as you go in one direction.
Tourist Boats —Blue Flag. If you just miss one, the next is due in 30 min. They operate with a commentary included, and you buy the ticket at the landing pier counter. One way 40 baht. All day 150 baht
Get Around Bangkok with Ease using the BTS Skytrain & MRT Subway.
Attractions in Bangkok
GRAND PALACE
A popular Royal attraction with history of the monarchy.
Displaying a collection of impressive carriages past and present in glimmering gold. Photography is discouraged within some areas.
Ladies are required to wear long sleeves and all visitors are required to have long pants to gain admission. Suitable garments are available.
It is always open, so ignore anyone, especially tuk-tuk drivers saying otherwise, and offering visits to alternative venues.
You can reach the palace by ferry or taxi.
MODERN MULTI-STORY SHOPPING MALLS
The following are close to Siam BTS Sky train Station.
A huge range of shops and restaurants designed to get you lost.
CENTRAL WORLD
SIAM CENTER
SIAM PARAGON
MBK CENTER— (MAHBOONKRONG CENTER) [access from National Stadium Station BTS]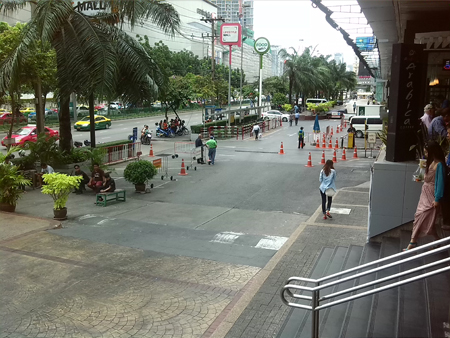 FORTUNE TOWN IT
A more relaxed shopping mall on Ratchadapisek Road. Travel by subway MRT to alight at Phra Rama 9 station. The mall is multi story and has levels loosely devoted to electronics, cameras, phones, clothing, bags, multimedia, DVDs, speedy repairs for phones and computers, etc.
Many international food franchises to suit western taste scattered throughout all levels. Great coffee at the entrance near the centre. Thai style food court at basement with tasty selection of dishes. Get 100 baht coupon for purchase. Refund balance when finished. It has older style elegant hotel at one end, the GRAND MERCURE BANGKOK FORTUNE. Near the entrance to this hotel as you wander though at ground level from the shopping centre, there is an area with huge armchairs and a central bar. It might be time out to relax while you sip your beer or orange juice. Later in the day you could even be entertained by a piano player with a tune or two of your selection of western evergreen favourites.
The Artist's House- Baan Silapin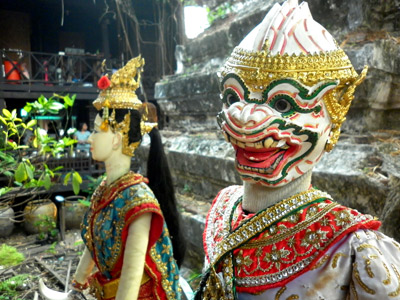 Baan Silapin
The Artists House is set on a Klong and located in the Thonburi area of BKK. 
Travel by BTS train to Wongwian Yai stop.
Within the station walk in the same direction the train was going until you reach the end and leave by the steps on your left to street level.
Hail a taxi from this side of the street and ask the driver to take you to Soi 3 Charansanitwong Road.
Follow this Soi (side street) to its end and on your right you will see a small concrete bridge used by pedestrians and motorcycles crossing the klong (canal). Once on the other side turn left and follow along the klong for a short distance where you will discover this delightful and quirky building.
Puppet show at 2pm
Closed and no performance on Wednesday's.
Try your hand at mask painting.
Relax here for an hour or more.
Tea and coffee and hot chocolate avalable.Light snacks.
Erawin Monument -Three Headed Elephant
Three Headed Elephant
Three Headed Elephant Monument
Erawin Monument 
The best way to get here is by taxi. Ensure the driver really knows where it is before departing. Alternatively travel by BTS to Chang Erawan Station on the Sukhumvit Line and walk half a kilometre back to the copper and concrete behmoth.
The elephant itself is 30 metres high and stands on a pedestal 15 metres in height. Inside this base is a museum, and the interior of the body of the elephant is a Hindu/Buddhist temple that can be accessed by a lift set inside one leg of the huge animal structure. A staircase also can be used to enter the place of introspection. Worth a visit.
Spend an hour or so admiring the huge Three Headed Elephant construction and explore the gardens. You can enter the museum with an English speaking guide and after this tour climb the stairs or take the lift up one of the legs of the elephant and into the Hindu shrine.
Tours of the museum commence regularly and with an English speaking guide. You might have to wait a short time for the next one. After the tour you're free to explore up the lift or stairs to inside the elephant temple.
Plenty of choices of food and drink are available at cafes outside and lots of trees give ample shade. 
As custom has it, footware will be left at the door. As I remember it was before entering the lower museum area. Your expensive sandles are safe, but if it's a concern, best leave them at the hotel as you are going to do a lot of this in Thailand. Maybe you could get one of those bike padlock chains and hopefully not forget the code—as the footpaths at times are a bit hot for bare feet.
Other Places in Bangkok to Visit
---
Safari World
Open plan safari type zoo with drive through facilities.
(Note: Dusit Zoo is now closed during reconstruction in a new location)
Sea Life Aquarium Bangkok
Modern up close experience with aquatic life.
Chatuchak Market
Weekend market with a vast array of souvenirs.
Night Market at Hua Kwang.
Food and drink of huge variety and cafes inside and out.     Catch MRT to Hua Kwang Station and walk or taxi.
The best way to experience the flavour of Thailand is to hit the streets. Follow the aromas and select from the tantalizing array to spin your palette in ecstasy.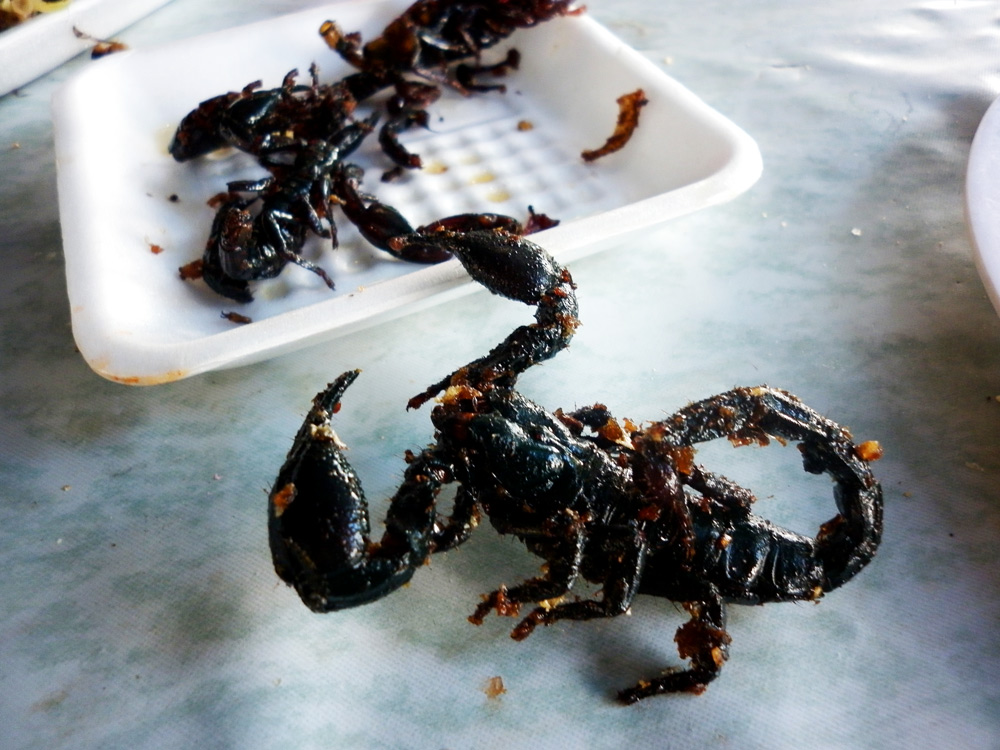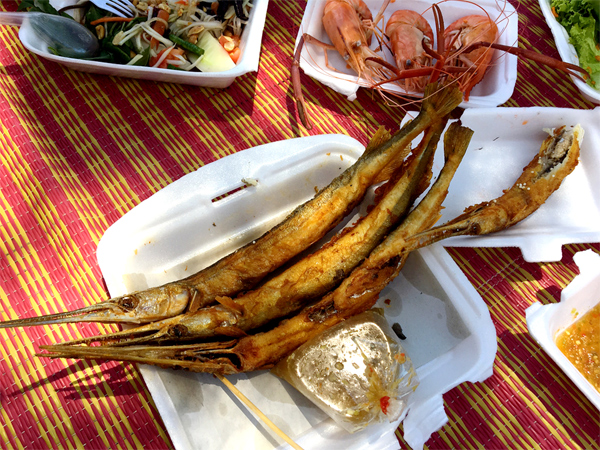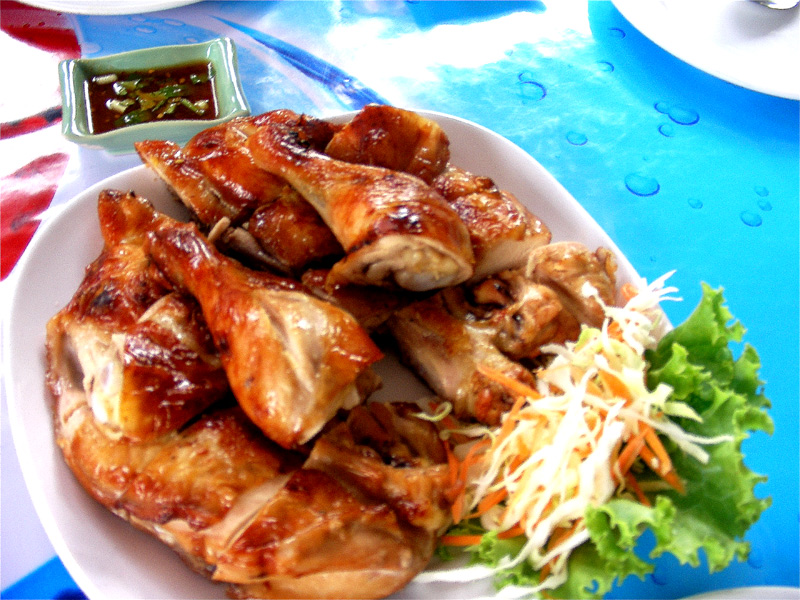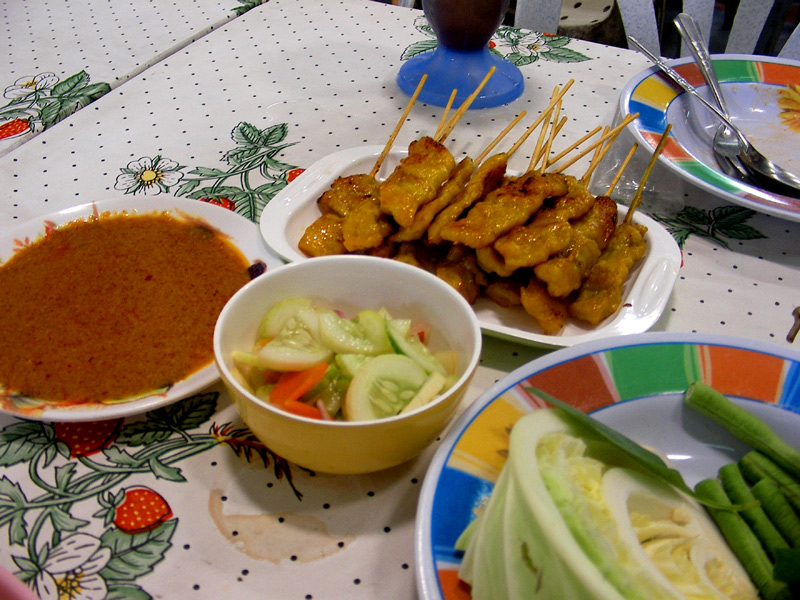 Savoury or Sweet Delights
Expertly cooked Traditional dishes and sweets that instantly brighten up your day. Whether it's banana, vanilla or cinnamon, pandan or chilli, the fresh daily preparation of the exotic ingredients will have you bypassing western food for these mouth watering treats.
Great Ideas In Travel
Beyond Time Restraints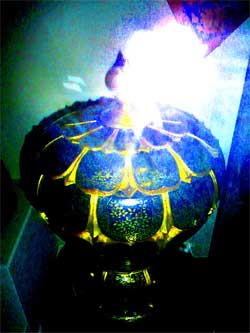 Copyright © Creativetravelplan.com